When you ask a random, younger westerner what he knows about Korea and Koreans he would probably mention one or more of the following off the top of his head:
They have amazing Internet speeds.

OPPA GANGNAM STYLE!

Starcraft is kind of a national sport there.
While all of these statements are trivial and rather dull on the surface level (except the Starcraft one), they are all true.
This article series will try to show you they are also intertwined, why the ARPU of Korean gamers is now estimated at $86.68 (source: statista), and how Line became a mobile powerhouse, which isn't doing badly in the offline world as well, making close to $20 million dollars from merchandise sales in 2014 (source: TechCrunch).
This 1st article in the series discusses the Korean Internet infrastructure and some of its effects on Korean culture.
South Korea Really, Really Cares About the Internet
Let's start off by understanding what makes Korea's Internet speeds so great. You'll probably be surprised by the fact that during 1988-2002 the Korean government invested 11 billion dollars in DSL infrastructure, while the United States government invested a measly amount of 2 billion dollars.
If you take into account the differences in size and population, as illustrated below, you can start to understand how much Koreans understood the Internet is going to become a major part of our lives and the economy way ahead of most of the western world.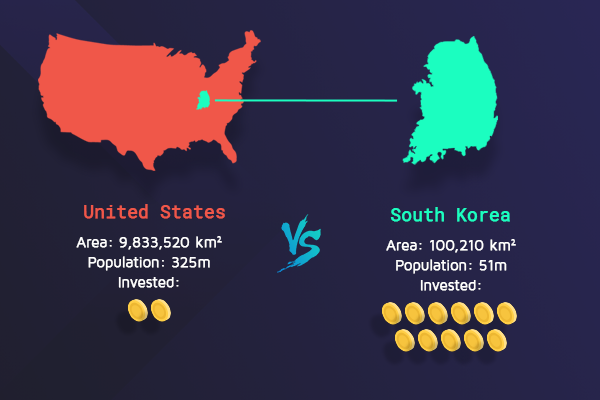 (sources: Wikipedia US, KR, Jin, D., 2010, Korea's Online Gaming Empire)
Korea is a 100x smaller and has 6x fewer people, yet they invested 5.5x more than the US in DSL infrastructure between 1998-2002.
Even when taking into account the fact that it's significantly harder to build infrastructure across the huge United States compared to the relatively tiny South Korea, this really shows how much Koreans dig the Internet and understood its potential extremely early.
What Does This Have to Do With Starcraft Being So Popular?
Starcraft is an RTS (real-time strategy) video game for the PC that was released in 1998 by Blizzard, who have grown to be one of the biggest game developers in the world. The game gained popularity worldwide rather quickly following its release, and a lot of us already know it helped create the huge phenomena that we know today as esports.
But if I told you that competitive tournaments of Starcraft were broadcasted on Korean television in 1999, would you believe me? Well, you don't have to take my word, you can see for yourself:
I know, right? They even had a studio with special chairs based on the Starcraft's design. Back then you might have called the producers of this televised tournament deranged. In retrospect, they are geniuses and visionaries and basically invented esports.
The next article in the series will discuss the effects of the Starcraft on the Korean Internet and culture further as well as the growth of Line and other Korean mobile giants (or Colossi, for you Starcraft fans out there).