This past June, Instagram celebrated the milestone of more than 1 billion active users. That's right – more than 1 billion people use the platform every month to share photos, check up on their favorite celebrities, and stay up to date on the lives of their friends – both real and virtual.
While this milestone was certainly significant for the team over at Instagram, it also had an unbeknownst-to-many impact on an entire profession's worth of people.
With 1 billion people flocking to the social media platform every month, gone are the days where marketers can dismiss Instagram, claiming their audience isn't there or it's just a platform for millennials.
You can bet that in that massive group of people, there are individuals of all ages and demographics. Your audience is on Instagram – you just have to identify the best way to reach them.
For B2B marketers, Instagram is especially unfamiliar territory. But don't be mistaken and assume that it's only good for showing off your company culture.
That mindset is limiting, when in fact, the opportunities are endless. While Instagram is a stellar tool to increase brand awareness, let's move a little further down the funnel, shall we?
That's right. You can use Instagram to increase app downloads. Now, we're going to talk about how.
Optimize your Instagram business profile
Before you do anything else, you'll want to make sure you've switched your company's Instagram account to an official Instagram business profile. Business accounts and personal accounts may look similar from the front end, but they're actually quite different.
A registered business account will give you access to in-depth analytics which offers data on the performance of specific posts, your followers' demographics, and more. Additionally, business accounts allow you to add a contact button – a critical feature that will ensure your customers and prospects know the best way to reach you.
Instagram also recently started allowing business accounts to add links to their Instagram stories, so long as it has more than ten thousand followers.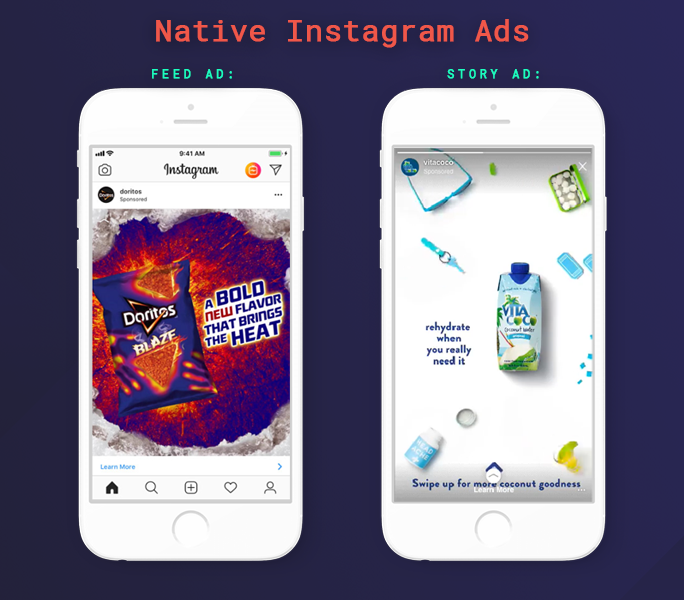 Test out Instagram Ads
Once you have an official business account, you can start integrating Instagram ads as a part of your Instagram marketing strategy. What's even better about this is Instagram also uses Facebook Ads Manager, making this process even easier if you're already familiar.
Additionally, Instagram's in-depth ad targeting is a stellar way to make sure your ad is shown to your app's ideal users. For example, you can define an audience based on their interests – data that comes from the apps they use, the accounts they follow, and the ads they're already clicking.
Say your app helps restaurant-goers find menus that cater to gluten-free customers. You can target Instagram users that already follow health food or gluten-free accounts, etc. You can also target based on location, demographics, behaviors, and more.
What's especially intriguing about Instagram ads is how seamlessly they integrate into the user experience. Users will come across your ads naturally as they scroll through their feed. Between creating a visually-pleasing ad, writing a compelling caption, and featuring a call-to-action to download your app, you'll be well on your way to some new and excited users.
Promote your app in your Instagram stories
If you're one of the lucky ones that have more than 10,000 Instagram followers, then you definitely want to be taking advantage of the perk that lets you add links in your stories.
Instagram stories gained popularity rapidly – especially among brands and companies. This growth can be attributed to a few reasons, the first of which that they allow companies to come across as friendly and approachable.
Instagram stories can be made up of multiple slides. These slides can be interactive photos, vertical videos (make sure you're using the proper Instagram story dimensions!), boomerangs, or graphics. This means you can show off your app's interface, describe how to use it, feature real users, and finish off the story with a link to download.
Additionally, once users do download your app, you can use Instagram stories to collect real customer feedback. Instagram recently offered a Q&A feature and a poll feature, meaning you can ask your users about their favorite features and gather some candid insights.
Instagram is here to stay. Start embracing it!
If you're a marketer, and you're not yet using Instagram to drive app downloads, I have just one question for you: what are you waiting for?
Instagram is more than just a brand awareness platform. Leverage the photo-sharing app in 2019 and start moving prospects down your funnel.