Papaya Gaming Intro
Papaya Gaming is a mobile gaming company that develops innovative versions of the most exciting and popular games and turns them into skill-based, real money tournaments.
Inspired by the idea of an experience in which players can generate value and actual money while having fun, Papaya Gaming focuses on hosting real-money skill-based tournaments for millions of players across the globe.
Persona.ly Intro
Persona.ly is a tech product company driving mobile user acquisition for brands and app developers, operating worldwide. Using our proprietary bidder and machine-learning algorithms, we offer transparent,
performance-based, highly-targeted UA, and retargeting solutions.
Persona.ly strives to be more than just a vendor for its partners, but a partner that helps generate actual value, growth, and broad marketing insights that can be used across channels.
Campaign Goals
Persona.ly worked together with Papaya Gaming to acquire high-value users for Solitaire Cash on iOS in the US. Currently ranked #4 in the card category on the App Store, Solitaire Cash is the largest growing and top-grossing real-money Solitaire app in the US.
Process
Our proprietary bidder is integrated with all major ad exchanges and can process more than 500,000 QPS of in-app inventory. On each auction, we apply user-level targeting using our machine-learning algorithms, based on real-time request data and aggregated data from our DMP, to run effective UA and retargeting campaigns.
This infrastructure, designed to allow us to focus on user behavior, rather than just ad placements, enables us to help mobile app developers reach their most relevant users at the most opportune time.
When we started running our UA campaign for Solitaire Cash, our initial approach was to target look-a-like audiences generated based around the solitaire genre as well as additional card-based games, in order to effectively collect a representative amount of installs and establish a robust install-target model to allow for controlled CPI before scaling.
A little over a week later after a significant sample of installs was accumulated, the criteria for targeting was increased in order to exclusively target users with a higher probability of making real-money deposits.
A major factor that contributed to acquiring said users was by shifting focus towards users whose behavior indicated they are losing interest in a similar alternative app, allowing us to show them an ad for Solitaire Cash, a better alternative with more content, and active users.
This approach drove us to exceed the D7 ROAS KPI just several weeks after starting the campaigns.
Results
FTD CVR (Payer Conversion) Vs. Organic Benchmark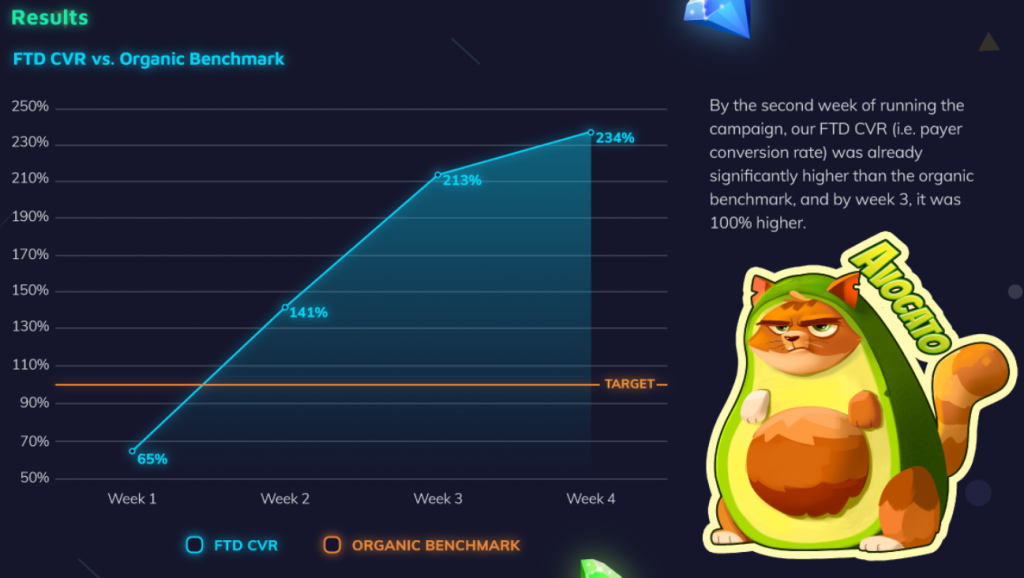 D7 ROAS Vs. KPI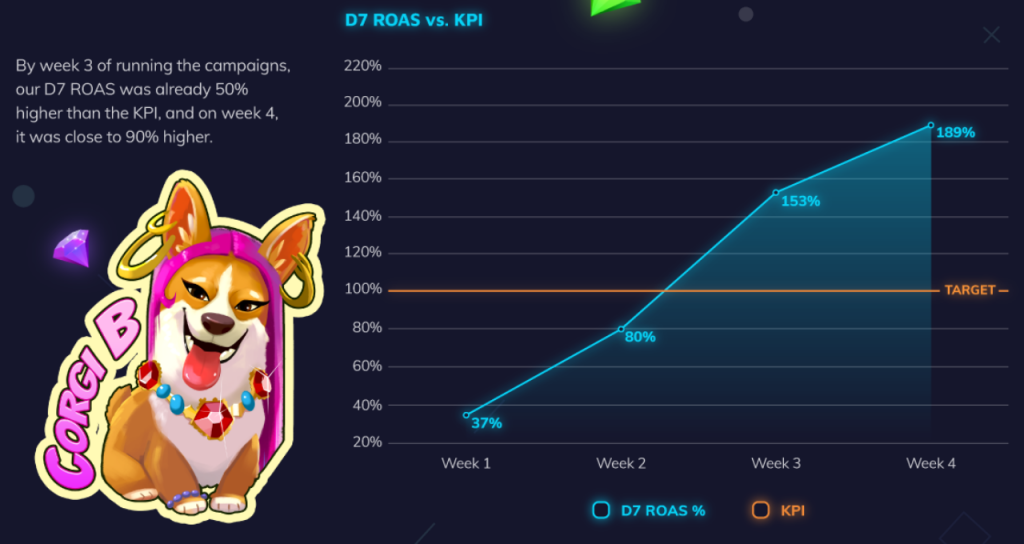 "As a fast-growing startup in the gaming space, focused on the ultra-competitive skill-gaming vertical, we can't settle for anything less than leading-edge marketing.That's why we work with the Persona.ly team. They're up for any challenge, are very responsive, and always make our goals and KPIs their first priority."
– Dan Hayoun, Senior UA Manager @ Papaya Gaming
"The Papaya Gaming team has been a genuine pleasure to work with, providing us with all the data we need, amazingly produced video ads and simply giving us the freedom to operate the campaigns to the best of our knowledge and our targeting capabilities was and is a major factor in the first steps and the campaigns ongoing success."
– Dan Sudak, Head of CSM @ Persona.ly