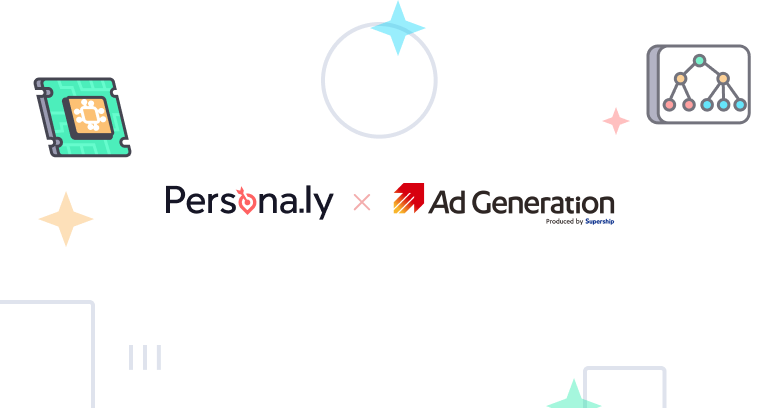 Persona.ly Programmatic DSP Is Expanding Its Efforts to Japan With Supership's Ad Generation SSP
Persona.ly (established in 2011) is a mobile-first programmatic DSP driving mobile user acquisition and re-engagement solutions for app developers. Headquartered in Israel, Persona.ly operates worldwide through business units in Japan, the US, Germany, South Korea, India, China, and Indonesia.
As a part of the market expansion strategy in Japan, Persona.ly established a partnership with Supership's Ad Generation SSP.
Supership is Japan's leader in data-driven digital advertising. With the combined capabilities of both companies, Persona.ly's advertisers will benefit from Supership's premium in-app inventory with an extra layer of targeting applied using Persona.ly's ML targeting capabilities.
The integration of Persona.ly's machine learning-based DSP platform with Ad Generation SSP creates an end-to-end ecosystem for advertisers. This allows them to display their ads to the right audience at the right time to run their mobile user acquisition and re-engagement campaigns.
We are very pleased to partner with Persona.ly, whose strengths include highly accurate machine learning infrastructure, optimized ad serving for each app, and high transparency in reporting.

We expect that the synergy between the high-quality media inventory of publishers using Ad Generation and Persona.ly's ad buying logic that leverages machine learning data will provide even greater value to both media companies and advertisers.

Akito Inada
Executive Officer and General Manager of Data Solution Business Area, Supership Corporation
Japan is a strategic market for Persona.ly. We see a great demand for the programmatic medium in the country and our goal is to provide our Japanese clients with a transparent, performance-driven and fraud-free solution.

Integration with Supership's SSP is a natural step for us to provide our clients with a high-quality traffic source. Combining Supership's supply with our machine learning-driven targeting will allow us to deliver better results for our Japanese partners.

Ofir Pasternak
Founder and R&D Director of Persona.ly
About Persona.ly
Persona.ly is a mobile-first programmatic DSP operating worldwide. Using our proprietary bidder and machine-learning algorithms, Persona.ly offers transparent, performance-driven, highly targeted UA and retargeting solutions at scale with access to over 2.5 million ad auctions per second. We are trusted by Nexon, Rapido, Ubisoft, Games24x7, Papaya Gaming, and many others.
Persona.ly strives to be more than just a vendor for its partners, but a partner that helps generate actual value, growth, and broad marketing insights that can be used across channels.
About Ad Generation
https://supership.jp/business/adgeneration/
Ad Generation is an ad serving optimization platform that helps media companies maximize ad revenue and reduce ad operation costs. It does this by automatically optimizing ad serving based on actual serving results from among domestic and overseas ad serving providers with which it has partnerships.
Based on the design concept of "an ad server that can be used without restrictions," it enables highly flexible ad serving design tailored to publishers' needs. It also boasts the largest market share in smartphone app/website installations, mainly among major Japanese publishers, thanks to the latest ad technologies and services, such as support for header bidding.
In addition, the use of the proprietary "Hyper ID" for ad serving enables appropriate targeted ad serving with consideration for privacy while maintaining profitability in the post-cookie era.
What is "Hyper ID"?
Hyper ID is a new ad serving ID built by Supership based on Novatiq's patented technology. It is a unique one-time ad serving ID that does not track or collect behavioral history. It utilizes accurate first-party data from carriers, which is entrusted to us based on customer consent, and enables ad serving related to user lifestyles without relying on conventional cookies or ad IDs.
About Supership Corporation
Supership Corporation is a data technology company that operates a "marketing technology business" that supports corporate digital marketing based on accurate data and Japan's leading ad serving technology. It is also a "data enabler business" that helps maximize the value of corporate data and customer contact points with Supership's data and data utilization technology.
We will work together with our partners to create new value by raising the resolution of the world through the power of data and technology.
Business: Digital transformation business (marketing technology business, data enabler business)
Location: Toranomon Hills Business Tower 27F, 1-17-1 Toranomon, Minato-ku, Tokyo
Representative: Takeshi Ohasa, President and CEO
<For inquiries regarding this service>
Ad Generation Support, Supership Corporation
Email: adg-info@supership.jp
For more information on how to access this service, please contact your local Ad Generation support representative.