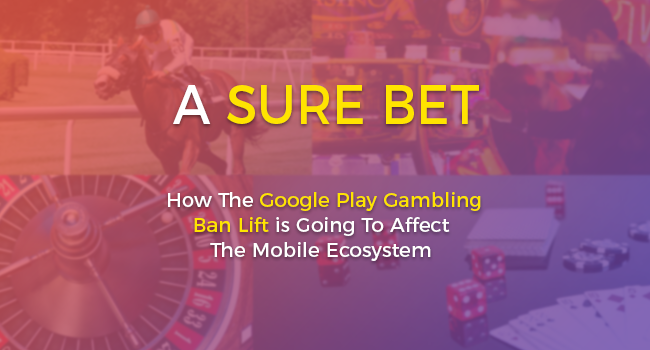 Gambling and Betting Apps Are Coming to the Play Store
As Android's market share keeps increasing compared to iOS, it's expected that Google would consider changing some of their policies in order to meet the needs of users who are brave enough to put their iPhone away and make the switch one of the policies that comes to mind is the current ban on gambling and betting apps on Google Play, And Apple, well, they never completely banned gambling.
Apple's current policy requires that gambling and betting app developers comply with their state's or country's laws, and Apple doesn't handle the transactions – not because they wouldn't want a piece of the pie, but mostly due to the fact that if they would've taken a share, like they do with in app purchases, most if not all of the economic models these apps employ today wouldn't work (since they would reduce or eliminate the developer's profit margin).
Currently, even though we weren't able to find any statistics to support our assumption, it feels safe to say that most of mobile gambling is happening in iOS, since installing an unauthorized APK on an Android device can be quite the adventure for a non-"power user" compared to clicking 'install' on the App Store. Yeah, you could say "hey, it's just downloading an APK to your device, then going into your settings to approve unauth…" did you just say something about settings?
Earlier this month, reports started surfacing regarding lifting the gambling ban from Google Play from quite a few sports betting news sites such as SBC, saying that Google has been in touch with a few "betting related companies" about an upcoming policy change, that is expected to go into effect today.
How is this going to affect the mobile app ecosystem?
While it's reported that the ban would only be lifted in UK, France, and Ireland in August, it's safe to assume the ban would be gradually lifted worldwide (wherever gambling is legal). Here's what we think this means for the mobile app ecosystem in general and mobile gaming specifically:
More high-value advertisers with massive budgets. Players like William Hill, Bwin, and Ladbrokes that are currently spending huge budgets on iOS alone are certainly already preparing to start advertising aggressively on Android as soon as the ban lifts until they learn how and when to target their potential users on a different platform.
These players know what converts and are always looking for new channels and trying newer methods and ad formats. For example, here's a playable ad we created for William Hill, promoting a specific horse race that drives traffic to their betting app:
(For example, here's a playable ad we created for William Hill, promoting a specific horse race that drives traffic to their betting app)
Playable ads for gambling and betting applications could turn out to be very interesting in the near future as the format becomes more prominent. With deep linking, advertisers could reward users who win in a playable ad with a signup bonus, and if you try thinking out of the box, they could theoretically also do all sorts of ad tech innovations like multiplayer playable ads where real users play for real money.
Sounds like science fiction to you? We get it. But in case you forgot (if you're one of those conspiracy theorists, please disregard the following) We landed on the moon in 1969. It's 2017. We can have multiplayer playable ads – all that's left is to figure out if we should make them.
eCPMs are going to increase

. Gambling and betting advertisers are going to hit hard, and everyone is going to feel the uptick. Although the rise will probably be felt across all ad unit types, we firmly believe that the rise would be more significant in playable ads, due to their interactive nature – gambling advertisers know which elements of their apps attract their whales and they're figuring out how to showcase them in 15-30 second demos – which is great news for us and our partners, since our SDK was built with playable ads and they're already producing very high eCPMs.

Possible incorporation of real money transactions in casual games

. Imagine a multiplayer trivia game where each player bets $5 with the winner taking the jackpot. Personally? I think that sounds awesome.

Additional policy changes

. Most sources that reported the upcoming policy change mentioned that Google is probably ready (and willing) to make the change since they've reaching a point where they feel confident in their technical capability to prevent exposure of underage users to gambling, making sure they have their bases covered legally. If this turns out to be true, maybe even adult content would be available through the Play Store in the future.
Unlike some buzzwords and trends which we usually sin in speculation about, its feels safe to say that this policy change will have a significant impact on the Android ecosystem: the bigger players are going to enjoy an abundance of new offers and the advertisers are going to be looking for more users furiously.
It might also help position smaller players who specialize in gambling and betting higher up in the food chain. For example, one of our UK based partners, Bookee, who offers a "tinder"-like approach to sports gambling, where you swipe to place a bet.
By simplifying the betting process, Bookee is starting to create a solid user base of casual and occasional sports betters alongside users that make bets on a daily basis. We've been successfully acquiring users for Bookie and meeting their KPIs, by running video and playable ad campaigns like this one:
Admittedly, this post contains quite a bit of speculation. And we're aware that there is some irony in speculation about gambling, but the fact that Google believes gambling and betting apps can have a place in the app store is too exciting to not speculate about. We hope you find our input to be as half as exciting as the changes that are yet to come.
Feel free to contact us at info@persona.ly if you're looking for interactive monetization solutions for your apps or quality user acquisition. We'd love to connect.