If I did a good job with the earlier parts of this article series (Part 1, Part 2), then you should ideally agree with my explanations regarding the how and why the Korean video game market became so unique or at least believe they make some sense. Here's a quick recap:
The penetration rate of online games in Korea is one of the highest in the world partly due to the Korea's government incredible foresight that investing in Internet infrastructure is a great idea as well as the audacity of a few Korean TV producers that decided it's a good idea to broadcast competitive video games on national television in 1999 (god knows why they did, but I'm very thankful for it).
The incredibly high ARPU of Korean gamers can be partially explained by the fact that Koreans are used to paying to play video games since around 2000 when the number of PC bangs (Internet Cafes for gaming) grew by over 400% to 15,000 and eventually to over 22,000 by 2002.
In the third and final post in the series, I'll attempt to show you what amazing things all these particular circumstances lead to in the Korean mobile market (as well as the Korean market in general), and why I think we're going to see similar occurrences in western markets within a few of years.
Remeber Gangnam Style?
While dancing like a madman to the alternative Korean anthem written and performed by the surprisingly agile PSY, did you ever stop to think how the hell it became so popular outside of Korea?
Chris Taylor from Mashable did in his article on the subject, and while I agree that "It succeeded because it stood out", I also think there needed to be an existing cultural bridge between Korean and western media for it to become a global viral hit – and I have reason to believe that bridge is the competitive Starcraft 2 community and Twitch.tv.
What's my evidence? Well, the first time I saw Gangnam Style was on a Starcraft 2 stream on Twitch. It was played ten times in a row, and all the viewers begged the streamer to keep it on as background music while he was playing.
During the next few days, it started popping up on all the European and American streams Starcraft streams. Why? The best players in the game (like in a lot of other esport games) are Korean, and aspiring professional players from Europe and the US travelled to Korea to hone their skill by competing against the best in the world, sometimes even staying in Korean team houses – where they were probably exposed to the song, which was an instant hit in Korea, hitting 500,000 views on the first day, as PSY was a national pop idol before this huge hit.
I shared the video the same day I saw it, telling my Israeli friends that "if you haven't caught the bug yet, it's time" – see what happens if I place that post on a views over time graph from Business Insider: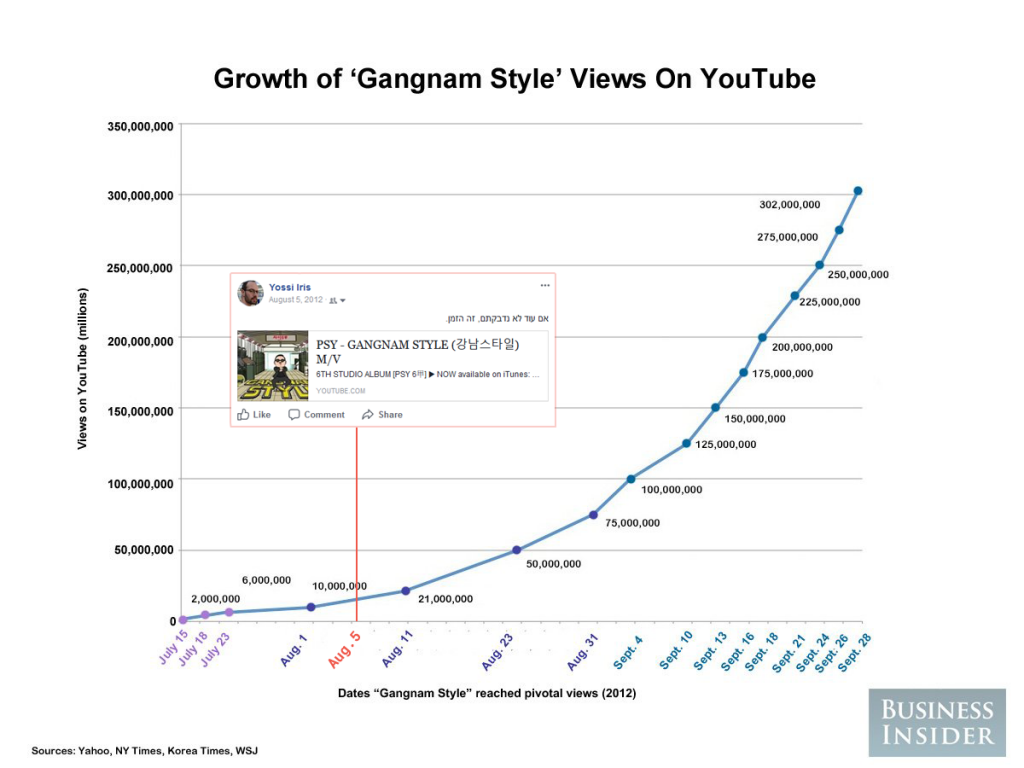 A week later, I posted a second link to the video on my feed, noting that it jumped from 15 to 30 million views in what felt like a day. The way I see it, the fact that the video was shown over and over again for hours on end to tens of thousands of American and European teenagers and young adult gamers that are notoriously active on social networks was undoubtedly one of the catalysts to the enormous success the video had.
I think the graph shows it pretty well – the growth rate starts substantially increasing around the time myself and other Starcraft fans were exposed to the video multiple times every single day, and very quickly after that point, the view count jumps to numbers that show that it's an international phenomenon, quadrupling the number of Korean residents.
There are dozens if not hundreds of other factors that made Gangnam Style go viral, but I think the Starcraft scene played a significant role in it, and that goes to show just how much power and influence gamers have right now. As we all know, PSY became a global celebrity and has had a few additional viral hits since, making millions of dollars off of ad revenue alone, and much from offline merchandise and ticket sales.
The PSY brand barely had any presence outside of Korea, then it was noticed by young gamers and their friends (through social networks) from the west and quickly turned global.
You No Longer Need Existing Intellectual Property to Sell Offline
The PSY IP didn't exist outside of Korea before Gangnam Style, and the IP and art used for LINE's stickers and emojis that sell amazingly well both online as images and offline as puppets and branded items, was created by LINE's artists as well as local artists who created them and got a percentage of the revenue earned.
From my perspective, both of these cases are unique, since what usually drives both offline and offline merchandise sales is existing intellectual property – like stickers, emojis and branded merchandise based on superheroes or bands, for example. But in these cases, there is no pre-existing offline IP – the IP is created online, and if it's successful there, it "bleeds" into the offline world, and creates an offline revenue stream, becuase the Korean popluation is used to spending a lot of real money, on brands they came familar with online.
Yes, this was seen before with Rovio selling Angry Birds plushies all over the world and releasing a movie, and with Blizzard and other developers selling substantial amounts of apparel and releasing a WarCraft movie – but those are backed by a much more substantial and well-based IPs, established during years of hard work developing titles and their characters. LINE's IP is just, well, really cute illustrations of animals making funny gestures, and it's making them tens of millions of dollars every year – both online and offline – the monetization model of your dreams.
I don't think I'm smarter than any of the decision makers at any of the major mobile game developers that have their own IP, so I won't be surprised if they are planning on opening physical stores in 2018. Seeing it working this well for LINE makes it feel like it's money on the table.
I hope you enjoyed reading the series, I know I enjoyed writing it. I'd be happy to hear your thoughts in the comments – think I made sense? Think I'm seeing it all wrong? Would you read similar articles about other markets like Japan or China? We're always open to feedback. Thank you for reading.