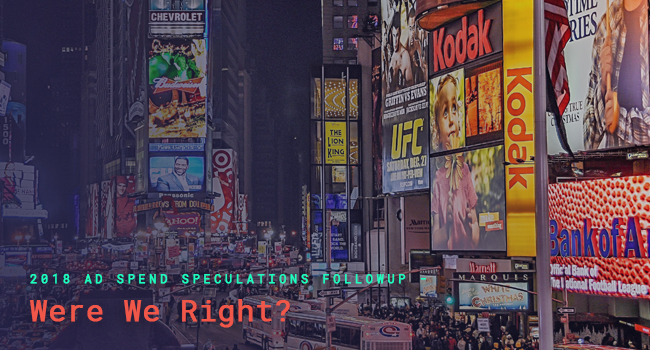 2018 Ad Spend Speculations Followup – Were We Right?
Towards the end of 2017, we wrote a blog post trying to predict ad spend growth (which might indicate future market growth) using data we gathered from our survey inventory. We work with leading market research providers and help them reach participants globally.
We looked at the number of surveys provided by the market research companies for each country, saw which countries had the biggest growth in the same quarter the following year, and assumed it would project where we'd see the biggest ad spend growth.
"It's easy to see why fluctuations in the amount of money spent on market research in a specific country (which then translates to the number of surveys conducted) might have some correlation with future ad spend in that country.

If more surveys are being conducted, it means that more products will go into circulation, and those products' advertisers are going to have to spend a significant amount of capital in order to get exposure for their product and penetrate the market".
That was our thesis when Joseph wrote the post last year, and now we're back to see how well we did. Here we go! *Fingers crossed*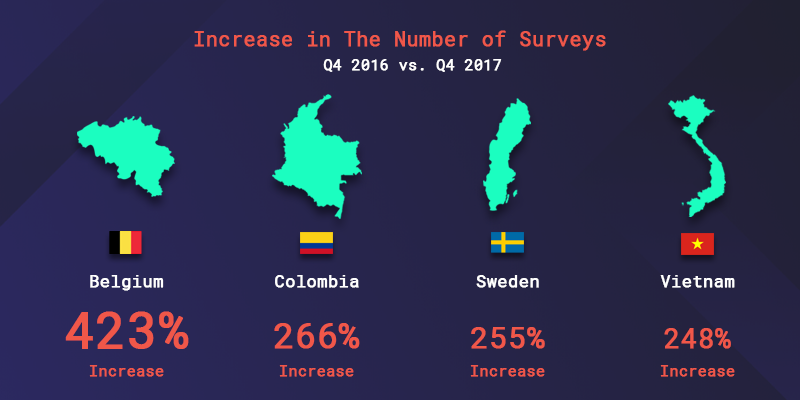 Last year we compared the number of surveys we've helped conduct in Q4 2016 to the number in Q4 2017 in all of the countries we serve surveys to consumers in and found the 4 countries that showed the biggest increase in surveys:
Putting Ourselves to The Test
Approaching the end of 2018 we wanted to look at digital ad spend growth in those countries and see if our predictions came true. Since we (luckily) don't often analyze ad spend growth statistics and don't gather data at this level, we used data from a thorough research paper conducted by Appnexus.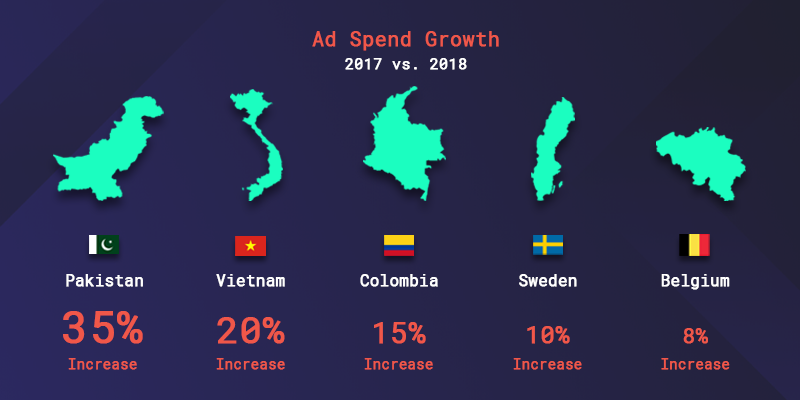 Appnexus compared digital ad spend growth (between 2017 to 2018) in countries that saw the biggest growth, and "our" countries' results were as follows: Vietnam grew by more than 20%, Colombia grew by a bit over 15%, Sweden saw a rise of more than 10% while Belgium saw a rise of less than 10%. Pakistan, a country that wasn't on our list, showed the biggest digital ad spend growth with more than a 35% increase.
This shows, first of all (and obviously most importantly) that we got a few right! Our top 4 countries showed significant growth, though the growth wasn't exactly as expected –  while Belgium showed to have the biggest number of survey growth, it actually had the smallest digital ad spend growth out of the 4 countries.
This might be explained by the results of the surveys – if the research conducted led to the conclusion that the market in Belgium wasn't ready for a certain product, the advertisers probably decided not to invest in advertising for the Belgian market, whilst Vietnam's results actually encouraged the advertisers to invest more than they originally planned.
Pakistan – An Outstanding Spend Increase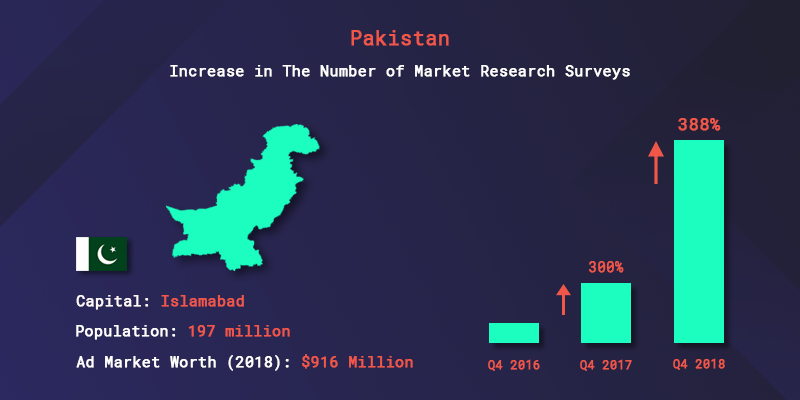 Of course, I had to go back and look at Pakistan's numbers within our system. I wanted to see if we missed something the first time around and found that between Q4 2016 and Q4 2017 there was actually a 300% increase in the number of surveys offered to Pakistani consumers, but since the initial number of surveys was low, we dismissed it.
Between Q4 2017 and Q4 2018, there was an increase of 388% in the number of surveys offered to Pakistani consumers, which means that from 2016 to 2018 there was an increase of more than 1000% and that Pakistan is probably on its way to see more digital ad spend growth next year.
At this point, we feel that It's safe to conclude that there is indeed a correlation between market research surveys' growth and ad spend growth, though it might not be a direct correlation (depending on the surveys' results). We wanted to approach ad spend growth from a different angle, and we're glad we were able to follow-up on that and see how our results prove our hypothesis.
We wish you all happy holidays and may your business see actual (and not just projected) growth in 2019.