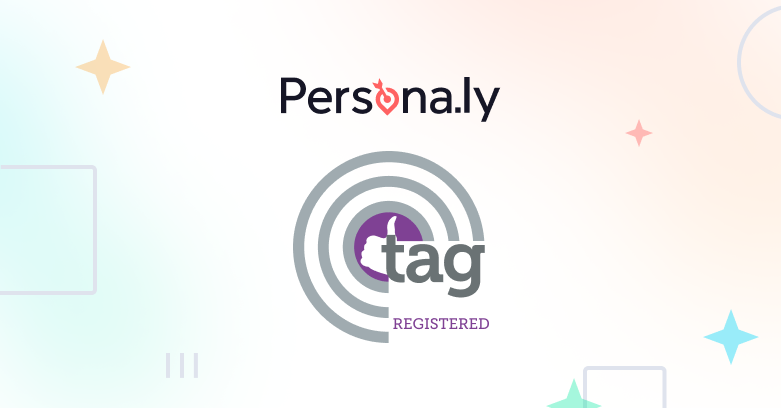 Persona.ly Is Verified by TAG (Trustworthy Accountability Group)
We're proud to announce that Persona.ly has been officially verified by TAG (the Trustworthy Accountability Group).
According to TAG's Vertified by TAG page, "Brand safety requires that legitimate companies have a way to identify – and choose to work only with – other responsible, trusted partners in the digital advertising ecosystem. The Verified by TAG Program provides exactly that.".
Persona.ly is a programmatic mobile DSP operating worldwide. Using proprietary bidder and machine learning algorithm, the company provides highly targeted user acquisition and re-engagement solutions to leading app developers and publishers.
TAG is the leading global initiative fighting criminal activity and increasing trust in the digital advertising industry. Working with more than 700 member companies, TAG advances its mission of eliminating fraudulent traffic, facilitating the sharing of threat intelligence, promoting brand safety, and enabling transparency by connecting industry leaders, analyzing threats, and sharing best practices worldwide. The TAG community includes the world's largest and most influential brands, agencies, publishers, and ad tech providers.
Joining TAG is a step forward for Persona.ly, which is striving to take its technology further by focusing on improving machine learning capabilities and building an unparalleled platform with multiple custom features to gain the best results for its clients.
The platform's features include:
Contextual targeting (especially handy in SKAdNetwork and future Privacy Sandbox campaigns), 
A proprietary Dynamic Audiences segmentation engine, 
Bid shading ensuring the best auction price in the world of first-price auctions, 
Dashboard with granular campaign insights to help clients make data-driven decisions and improve the overall effectiveness of their advertising campaigns, 
Contextual bandits algorithm for creative selection, and many others.
By working exclusively with top ad exchangers and OEMs, Persona.ly prides itself on its traffic quality, transparency and brand safety.
"As a programmatic DSP company, we recognize the importance of building trust and transparency with our clients and partners. Joining the TAG Community is a significant step for us, as it reflects our commitment to conducting business with integrity and honesty. We believe that TAG plays a vital role in creating a more secure and trustworthy digital advertising ecosystem. That's why we're proud to be a part of this effort and looking forward to making meaningful contributions to the TAG community."

Ofir Pasternak, Founder and R&D Director at Persona.ly