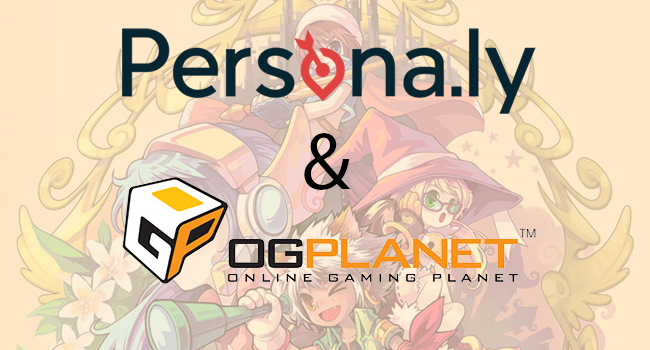 Persona.ly partners with OGPlanet
Persona.ly, a leading tech agency which offers innovative monetization and user acquisition solutions, has strengthen its operations in South Korea by partnering up with OGPlanet, one of the biggest Korean Online Gaming companies and a leading publisher of Massively Multiplayer Online (MMO) games to the North American and European markets.
OGPlanet, following other leading game publishers such as Ubisoft, Smilegate, CyberStep, OnlineSoccerManager (OSM), Artix Entertainment and Aeria Games, will now be able to offer its users from all around the world the opportunity to enrich their gaming experience by earning additional currency for OGPlanet games, for free, seamlessly and in real time. The users are rewarded in exchange for performing simple activities such as watching videos, downloading apps, completing surveys from well-known market research firms and engaging with unique brand activities.
"We're excited about our partnership with Persona.ly, as their service provides our users with an opportunity to earn "Astros", a special currency users can spend on in-game items & enhancements. The Persona.ly platform is an elegant addition to our website, and the offer wall can be tailored to match the interests of our user base. The Persona.ly team was very supportive to make the integration process simple & seamless. We look forward to the shared success that we can create with this new partnership" says Chris Andrews, Billing Administrator.
Persona.ly's CEO, Ofir Pasternak, says that "It's an honor to be chosen by one of the most respected and significant Online Gaming companies in the world to equip them with our monetization solutions. This partnership will contribute to a stronger connection between OGPlanet and its community, which is something that we at Persona.ly are happy to help them achieve".
As part of their expansion into the Asian market, Persona.ly will be exhibiting in the G-STAR 2016 Game Exhibition in Korea for the second year in a row. Korean companies will have the opportunity to find out more about the monetization and user acquisition opportunities, and also the new technologies that Persona.ly has to offer.
Persona.ly will also be participating in the event "Korea-Israel Games Going Global". This event is organized by the Israel Economic and Trade Mission to Korea, Korea-Israel Industry R&D Foundation and takes place on November 18th at the Busan Bexco expo hall.
About OGPlanet
Since 2004, OGPlanet has been a pioneer in publishing top-tier free-to-play, massively multiplayer online (MMO), downloadable PC games from renowned developers such as Koei and Bandai.
OGPlanet publishes the games La Tale, Uncharted Waters Online and Tales Runner, and services each title via OGPlanet.com and Steam. With a veteran team rich in experience in the gaming industry, OGPlanet's sole focus is to set the industry standard for community management and monetization, and to provide the best user experience for their customers.
About Persona.ly
Persona.ly is a One Stop Shop for all the game developer needs, all the way from monetization to marketing, focused on helping its partners to build scalable and profitable games while focusing on the user experience.
Persona.ly's platform helps developers monetize their apps with a wide range of monetization solutions that were developed in-house utilizing innovative technology in tracking and fraud detection tools. Persona.ly's proprietary technology also helps developers advertise their apps and acquire targeted users, based on a risk-free models at scale, worldwide.
The Persona.ly offices are headquarter in Israel with branches in Korea, Ukraine and Germany.