With Google also stepping into this field we have decided to get out of "stealth mode" and share more about playables and our unique approach to unlocking the potential of this format. Playable ads are perfect for both developers that want to attract engaged users and for app developers that want to monetize their apps and enjoy premium eCPMs.
What are playable ads?
Playable ads are interactive ad-units that mimic a short game-play or native app experience. The goal is to let the user "get a taste" of the app before he installs it.
Why playable?
There are several reasons why developers should test the playable format:
Avoid 'Ad blindness' – "a phenomenon in web or mobile usability where users consciously or subconsciously ignore banner-like information, which can also be called banner noise" (Wikipedia). According to our data analysis – 30-40% of the users that were exposed to our playable ads start to interact with it (i.e playing the game), unlike common ad formats.
Discovery – As the app economy grows, the app discovery becomes tougher and tougher – the playable format is a great way to stand out, and it converts better.
Risk-free – you only pay when the user has played the mini experience and installed your app. You gain absolute free brand exposure for the ones who played but did not install.
Most of the app developers think that a user that installed their app should automatically be considered as a customer, but they are WRONG. Those users should be considered as prospects or even suspects.How many apps do you know that promised but didn't deliver? Nowadays, users that install your app think that your app might fit them. That's where the big value of the playable ad unit comes into the picture- If a user played your playable and downloaded your app then he already skipped the suspect/prospect stage and he will be your customer. Not convinced yet? I will prove this with data later on in this article.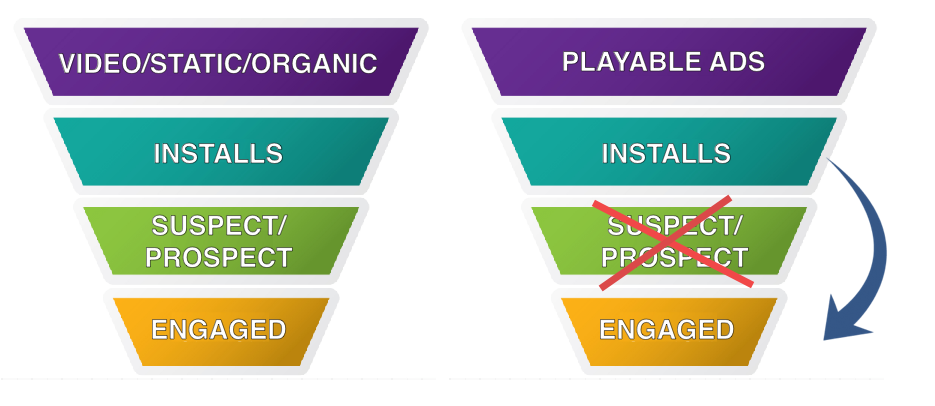 Persona.ly's approach to Playable ads
We started to develop playables here at Persona.ly almost a year ago. We began from testing how we can stream apps from remote servers to the consumer device, while recording the end user actions and send them back to the remote server with minimum latency (0.5 ms to be exact). We discovered that this solution is not scaleable and the user experience isn't that great when they have a low network signal. Moreover, it will cause the user to consume a lot of bandwidth.
We decided to pivot and started to develop HTML5 cross-platform rich in-app experiences that mimic the highlights of the game. After playing with it for some time we developed our very own Playable ads editor (patent pending technology) that includes all the possible game mechanics and can also include external APIs and deep linking features (Imagine if you could give an extra bonus to the users that installed your app after they played the mini-game). All of that was done in order to be able to produce amazing playable experiences in minimum time, while keeping a great user experience. Our playables weigh only 500-800kb, and most of the time they can be pre-cached for instant serving.
On top of the ad-unit itself, we built a BI system that will help utilize the "in-ad events" data and automate the process of our buying decisions. We can tell which user personas are interested in each specific playable according to their usage pattern, and then we can create re-marketing campaigns and even build look-alike audiences and target them.
We create the playable for the developers, free of charge, and run it programmatically with our bidder or with our SDK, which is integrated inside various apps. We charge the developer only for performance, meaning – they only pay us when an install happens.
We've already teamed up with Playtika, Machine Zone, Jelly Button Games, GREE, Scientific Games, MoonActive & Jam City.
Playables, not only for gaming apps
We are already testing playables for a few companies from the transportation and travel industries. We were required to create an experience that will highlight the best features of the app and will pass some marketing messages as well. Take a Taxi app for example: the playable could be based on the "Rush Hour" game where you have to free a taxi from other cars surrounding it. Once the taxi is free, the user is shown the exact fare from their current location to the city center/airport. Showing that the app can pinpoint your location and provide the fare for that specific location at that specific time encourages the users to download the app and take the ride.
How to monetize with Playable ads
Playable ads show higher eCPMs than video ads, x2.5 higher to be exact, and that's mainly thanks to a better conversion rate. Advertisers are also willing to pay more, knowing they will get highly engaged users.
Programmatic
If you are a publisher, make sure you have the ability to support rich media ad-units so we will be able to bid on your inventory. You can also get our playable demand via SDK-less integration (JS Tag /Server2Server/API).
SDK
If you support virtual currency economy in your app you can show our playables when the users run out of virtual currency, and then you will reward them for playing our playables.
Case study – Pirate Kings
Here is a playable experience we have created for the successful casual game Pirate Kings:
The results
In the graph below you can see the impact of the Pirate Kings' playable ad on the user's retention and IAP (In-app purchases) rates: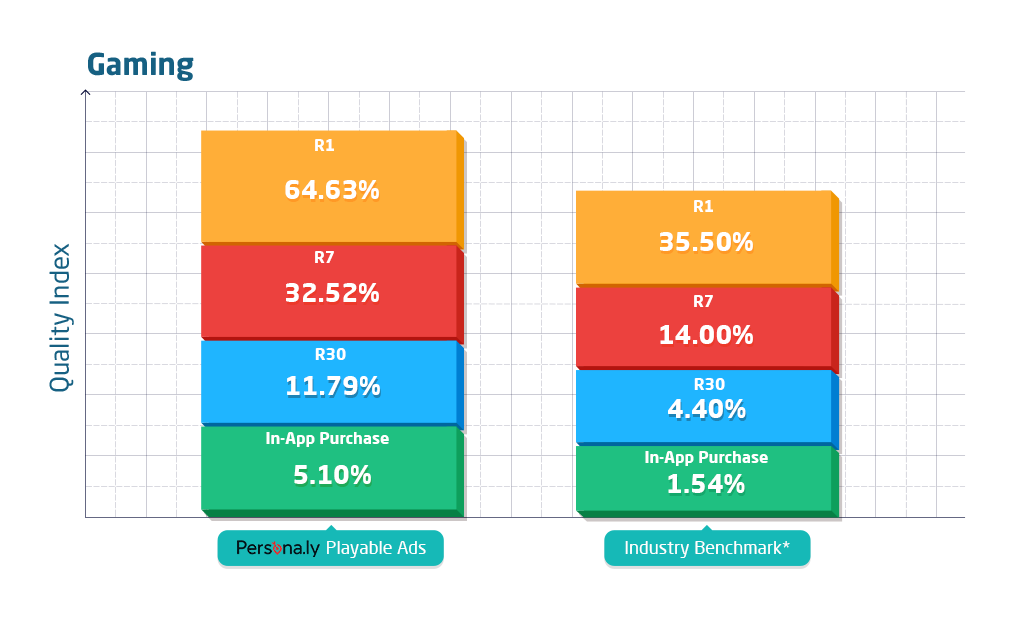 *The State of App Engagement [Data Study] by AppsFlyer for the 2nd Half of 2016
Playable ads are not just a trend, as they create a true value for all the parties in the mobile ecosystem. They are here to stay and we will definitely see their market share grow in 2017.
App developer? Publisher? Feel free to contact us for a free Playable consultation:
info@persona.ly