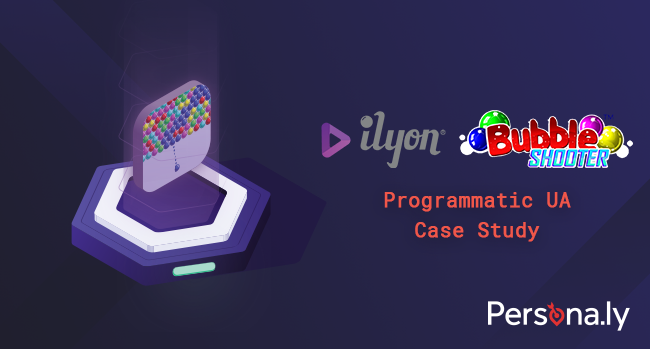 Ilyon's Bubble Shooter™ Programmatic UA Case Study
Persona.ly Intro
Persona.ly is a tech product company driving mobile user acquisition for brands and app developers, operating world-wide and focusing on the US, KR, JP, RU, SEA and IN markets. Using our proprietary bidder and machine-learning algorithms we offer transparent, performance-based, highly-targeted app install and retargeting solutions.
Persona.ly strives to be more than just a vendor for its partners, but a partner that helps generate actual value, growth, and broad marketing insights that can be used across channels.
Ilyon Intro
Ilyon is a leading gaming company for the mobile world. Since its founding in 2013, Ilyon has published successful free-to-play mobile games that are enjoyed by millions of fans around the world. As owners of Bubble Shooter TM, Ilyon has more than 600 million downloads from the different app stores. They are serious about making great casual games with engaging gameplay that takes playtime to a whole new level.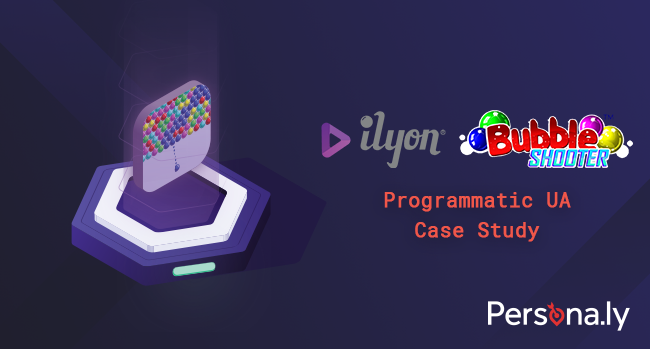 Campaign Goals
As a programmatic DSP, our work with Ilyon was focused on mobile UA. Ilyon's defined goal was acquiring highly engaged users that would lead to higher overall retention rates. This goal stems from their monetization model which is based mostly on ad revenue but not only. The longer and more frequent the sessions, the higher the revenue they generate.
Process
Our in-house programmatic DSP is integrated with all major SSPs and is able to process more than 500,000 QPS of in-app inventory. We apply user-level targeting based on machine-learning algorithms, real time-request data and aggregated data from our DMP, to run effective UA and re-targeting campaigns. Focusing on user profiles, rather than placements, allows us to help mobile game developers such as Ilyon, acquire the most relevant users for their games.
We started running UA campaigns for Bubble Shooter™, their leading title, on both iOS and Android.
Our successful exploration campaign relied on transparent communication and collaboration. Ilyon had delivered data, that included insights on their potential audience, based on data gathered through running these titles and many similar ones.
The insights they have shared helped our algorithms create an initial targeting model, taking into consideration the level of engagement of each user to also estimate how engaged the users we target can be, and focusing on targeting look-a-likes of those engaged users. Our machine learning models created two segments (one for each campaign), based on dozens of user-level attributes, an important one of which is based on other apps most frequently installed on their devices.
Using our reporting dashboard, Ilyon could track performance and gain insights regarding their campaigns from the day the campaigns were launched.
"Persona.ly has a highly professional team that has gained our trust very quickly. We were thrilled with the good results and transparency they have provided" – Gabi Castellan, Head of User Acquisition @ Ilyon
Ilyon was able to easily monitor their campaigns on Persona.ly's reporting dashboard. In addition to a clear display of metrics coming from their attribution platform, Appsflyer, Ilyon was also able to track performance and specific KPIs (events, purchases, RR, and ROAS), including a complete view of in-app placement names and creatives driving performance for their campaign. This allowed the Ilyon team to gain unique insights into which creatives performed better. In these specific campaigns, we used only full-screen interstitial videos in rewarded and non-rewarded placements.
These two segments proved to be rather accurate in terms of user intent and we were able to exceed the retention KPI set by Ilyon's social channels, reaching:
Bubble Shooter™

(iOS/US) – July 2019:

Retention

:

an increase of 18% in D1 / an increase of 32% in D7
IPM for 80%+ Install Probability

*:

9.63

CVR for 80%+ Install Probability

:

5.12%
* 'Install Probability' is a metric generated by our machine learning algorithms for each incoming request in real-time. Users with above 80% probability, as shown by the metrics, are very likely to install the app.
"Persona.ly has become a close partner and we are looking forward to expanding and growing our partnership" – Shiri Schulman, User Acquisition Manager @ Ilyon
"Working with Ilyon is a genuine pleasure, from our communication and collaboration it's clear why they are such a leading company in casual gaming. Only when cooperation and transparency are mutual, which is only truly possible in a programmatic environment, data can be fully activated and KPIs can be exceeded" – Ofir Pasternak, Founder & CEO @ Persona.ly