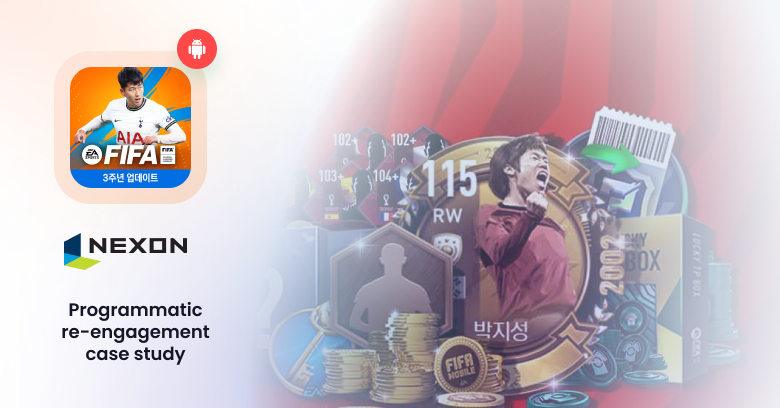 How we doubled CVR while scaling 5.6x and outperformed KPI for Nexon's FIFA Mobile
Persona.ly worked with Nexon, a South Korean gaming giant owning over 50 gaming titles, including Dungeon & Fighter, Sudden Attack, and KartRider, to run a campaign to re-engage users of FIFA Mobile, one of Nexon's sports games.
Campaign goal
Our primary goal with this campaign was to re-engage churned users of the FIFA Mobile game to continue using the app and make purchases. To achieve the ROAS-based KPI, we optimized the campaign towards users who would make a first purchase after re-attribution.
Results at a glance:
560%
campaign scaling over 7 months
2x
first purchase after re-attribution CVR on month 2 vs. month 1
83%
revenue event cost reduction during FIFA World Cup 2022™ campaign
Programmatic re-engagement process
When we started running the re-engagement campaign for FIFA Mobile, our initial approach was to target all churned users who hadn't been active for at least seven days.
Using our proprietary Dynamic Audiences segmentation tool — available to our clients at no extra cost — we quickly generated audience segments of users who churned within a specific timeframe. Dynamic Audiences integrates directly with clients' MMP, allowing us to update the audience in real-time to continuously add freshly churned users without delay and suppress segments of users who returned organically.
Within a short time, our algorithm identified which user segments would click the ad and re-engage in the app. This basic targeting model, which focuses on audience segments that have a higher probability of being re-attributed, allowed for gradual campaign scaling while significantly reducing the CPA (cost per first purchase after re-attribution).
As the learning progressed, our algorithm was able to classify users into three groups:
Users who had a high probability of returning to play the game and making a first purchase after re-attribution;
Users who had a high probability of returning to FIFA Mobile but wouldn't make purchases;
Users who wouldn't re-engage.
Once we gathered enough data to safely predict which group a given user belonged to based on multiple factors, our algorithm designed a custom targeting model. This allowed for a massive campaign scaling while targeting audience segments and significantly reducing the cost per first purchase after re-attribution.
Campaign results
Campaign scaling
Within five weeks of starting the campaign, as the learning progressed and we focused on a more engaged audience, we were able to increase the re-attribution volume by 60%.
The FIFA World Cup 2022™ promo campaign allowed for a massive additional scaling by 290% vs. week 1. Despite a decrease in scale straight after the campaign was over, we managed to scale the campaign by an extra 270%, proving the effectiveness and success of our processes. This means we reached an impressive 560% overall campaign scaling.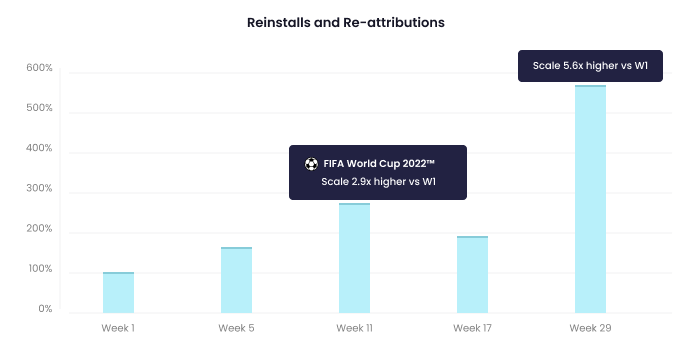 Target action conversion rate
With the first purchase after re-attribution being a target action and its cost being a KPI, our proprietary algorithm focused on the audience segments who clicked the ad, opened or re-installed the app, and eventually performed the target action.
As the targeting models kept improving, we were able to double the target action conversion rate by the end of month 2.
FIFA World Cup 2022™ сampaign
Due to focusing on the audience based on the IAP (in-app purchases) KPI, our programmatic bidder was able to distinguish and retarget highly engaged users who would make their first purchase after re-attribution and continue making purchases within the app.
During months 2 and 3, the scale was significantly increased due to the FIFA World Cup 2022™ campaign and our bidder adjusted the bidding strategy to acquire users based on predicted value.
Throughout the special promotion, the eCPM increased 5.1x while the cost per revenue event drastically decreased by 83% compared to month 1.
"We find Persona.ly to be a reliable DSP for running re-attribution campaigns. They have an advantage over other DSPs in campaigns where timing is crucial, such as the World Cup, because they can use fast machine learning to optimize the campaigns and reach the user re-attribution cost and UA campaign goals that I have in mind. We look forward to working with them on various campaigns and improving the campaign outcomes by keeping up the communication as we do now."

Dongguk Kim & Yunchul Kim // User Acquisition Managers at Nexon
About Nexon
Founded in 1994, NEXON Co., Ltd. (Nexon) (3659.TO) is a company engaged in the production, development, and operation of online games and Virtual Worlds. First listed on the Tokyo Stock Exchange in December 2011, Nexon was placed on JPX400 in 2015 and added to the Nikkei Stock Index 300 in 2017. In 2020, Nexon was added to the Nikkei 225. Nexon currently has more than 50 live games on multiple platforms, including mobile, and is available in more than 190 countries. Major game franchises include MapleStory, KartRider, and Dungeon & Fighter. In 2021, Nexon completed the acquisition of Embark Studios AB, a company based in Stockholm, Sweden, developing multiple projects for global release.
"By leveraging our machine learning models alongside with the proprietary Dynamic Audiences feature, we were able to effectively segment the churned users, resulting in purchase rate increase improvement month on month.
Special thanks to the highly professional Nexon Korea team, who consistently contribute their valuable insights and expertise enabling us to deliver high-performing campaigns."

Gal Koragi, Head of Operations at Persona.ly
About Persona.ly
Persona.ly is a mobile-first DSP operating worldwide. Using our proprietary bidder and machine-learning algorithms, we offer transparent, performance-driven, highly targeted UA and retargeting solutions at scale with access to over 2.5 million ad auctions per second. We are trusted by Nexon, Papaya Gaming, Rapido, Games24x7, Ubisoft, Tilting Point, and many others.
Persona.ly strives to be more than just a vendor for its partners, but a partner that helps generate actual value, growth, and broad marketing insights that can be used across channels.