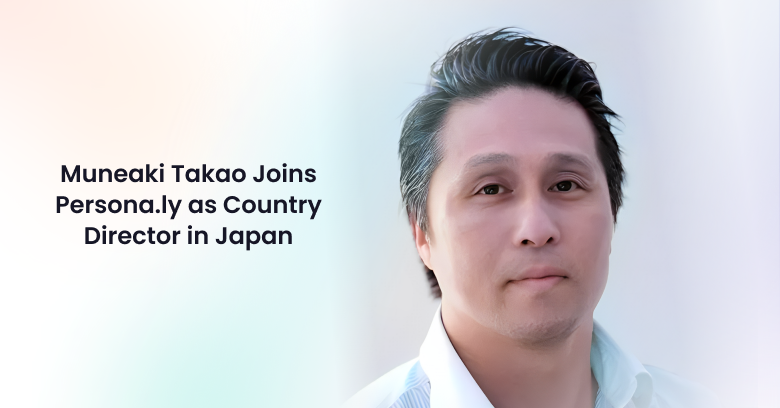 Muneaki Takao Joins Persona.ly as Country Director in Japan
Persona.ly (established in 2011) is a mobile-first programmatic ML-based DSP driving mobile user acquisition and re-engagement solutions at scale for top-grossing app developers. Headquartered in Israel, Persona.ly operates worldwide through business units in the U.S., Latin America, South Korea, India, China, and Southeast Asia.
As a continuation of Persona.ly's strategic expansion in the Japanese market, following its integration with Supership's Ad Exchange SSP, the company is thrilled to announce the official opening of its business branch in Tokyo, Japan and the appointment of the adtech veteran Muneaki Takao as Persona.ly's Country Director. With over 20 years of industry experience, Mr. Takao helped drive demand for major programmatic players and high-tech companies such as Microsoft and Adobe.
Mr. Takao's mission as Country Director is to expand Persona.ly's DSP business, helping Japanese mobile advertisers reach their UA and retargeting goals with transparent and highly targeted machine learning-driven solutions.
"I have witnessed Persona.ly's excellence and success in multiple app verticals and I'm certain that Japanese advertisers will benefit from the new solution available in the market. Persona.ly is a fast-growing adtech product company with highly advanced technology and full transparency. I'm beyond excited to assist its growth in the market I'm well familiar with."

Muneaki Takao, Country Director – Japan at Persona.ly
"It's a great honor for us to work with a seasoned professional like Muneaki Takao. We have no doubt that his vast experience and adtech knowledge will yield great outcomes. As we see a great demand for the programmatic channel in Japan, our goal is to provide our Japanese clients with a high-performing and transparent solution."

Ofir Pasternak, Founder and R&D Director at Persona.ly
Persona.ly is integrated with all the major ad exchanges, giving it access to both premium inventory and a global user base. A proprietary ML algorithm is at the core of the company's programmatic DSP. Processing over 2,500,000 ad auctions per second while precisely targeting the audience, Persona.ly's bidder accurately predicts the value of each impression and which users are going to interact with an app.
Persona.ly's exponential growth in the past years was possible due to constant technology development and machine-learning capabilities improvement. It allowed the company to serve leading mobile app developers, including Ubisoft, Nexon, Games24x7, Papaya Gaming, Rapido, and others worldwide, to help them reach their deep-funnel KPIs.