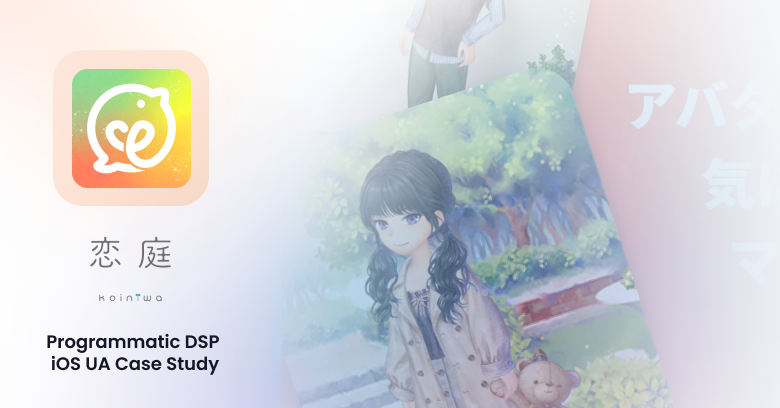 How We Increased ARPPU 4x for Koiniwa Dating App
We worked with Koiniwa Inc. (Bank of Innovation company) to acquire users for its top-grossing dating app Koiniwa on iOS in Japan. Koiniwa is a unique dating app combining casual gaming mechanics to create a distinctive experience where matched users get to nurture a "Love Garden" as a couple.
Campaign Goal
The campaign goal was to acquire users who would engage with the app by registering, completing the tutorial, matching with other users, and eventually making in-app purchases, with ROAS being the benchmark. Koiniwa has well-calibrated prediction models allowing it to predict a user's LTV a week after they have downloaded the app. This approach helps Koiniwa evaluate the quality of traffic well before the cohorts become mature enough.
Results at a Glance:
4x
ARPPU (Average Revenue Per Paying User) growth in 3 months
3.6x
FTD (First-Time Deposit) D30 count increase in 3 months
SKAN campaigns UA process
For post-iOS 14.5 / SKAN campaigns, we apply a Contextual Targeting approach.
Using machine learning capabilities, our in-house DSP targets placements based on the contextual distance between the promoted bundle and the placement bundle. NLP (Natural Language Processing) utilization allows us to pick the placements based on the store description rather than a category. This approach is not limited by language and allows for analyzing descriptions in any language.
In the case of Koiniwa — which combines the mechanics of dating, anonymous chats, and casual games — our bidder focused on the most contextually close apps (anonymous chats and casual games) whose users showed the highest engagement during the initial campaign period.
Campaign Results
ARPPU (Average Revenue Per Paying User) and FTD D30 Count
In the beginning, by targeting based on contextual distance, we were able to acquire engaged users who would finish the initial funnel (install the app, register in the app, complete the tutorial, and match with other users).
Once enough data was collected to build a basic logic ML model, our bidder focused on inventory segments to target those who would make in-app purchases.
As soon as our bidder was able to safely predict what kind of inventory would bring a higher number of paying users, the focus was shifted toward the cohorts that would make more and higher in-game deposits, thus increasing the ARPPU. This allowed us to increase the ARPPU 4 times while increasing the number of FTDs (First-Time Deposits) by 3.6x.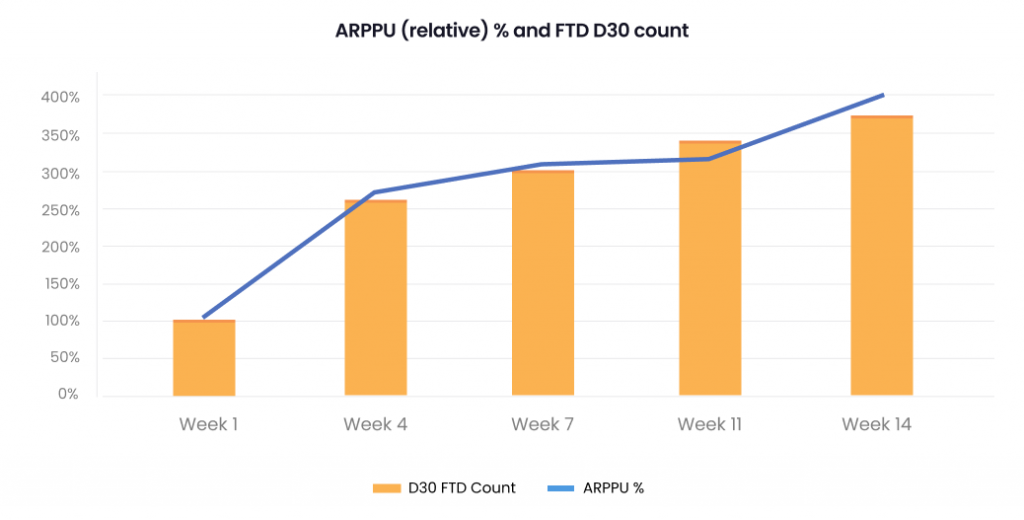 Contextual Targeting
Our DSP can calculate the cosine distance* between the promoted bundle and the placement app in real-time and only target the relevant placements. It does this by constantly processing the store descriptions via the NLP model rather than relying on categories or manual tagging.
The graph on the right displays how the campaign budget is divided between the top three categories of apps where the ads were shown (based on their description) and the performance (D30 ROAS) per category.
*To calculate the cosine distance, app store descriptions are presented as vectors in multidimensional space. The smaller the number is, the higher the contextual similarity is between the apps.
"Thanks to Persona.ly's extensive integration and ML-based targeting, we have achieved stable ad performance. Persona.ly's dashboard allows us to closely monitor the campaign performance, providing granular data on creatives and apps where our ads appeared.

Persona.ly responds promptly to our requests, and when we requested the suspension of some creatives in the past, they did it in no time.

We look forward to continued collaboration and high performance."

Takayuki Matsuoka, Business Manager at Koiniwa Corporation
About Koiniwa (Bank of Innovation company)
Based in Shinjuku Ward, Tokyo, Koiniwa (meaning "Love Garden" in English) is a "game-based dating" app that combines the concept of a miniature garden farming game with matching functionality. Both men and women can use the app for free to match and exchange messages, and players match with each other's avatars. Through the collaborative experience of cultivating crops in a virtual garden called "Love Garden," users can experience a new era of matching, where deep connections are naturally formed.
"It is a great honor to be working with Koiniwa. Their team is extremely savvy and performance-driven. We were able to establish great communication from the beginning due to sharing the common value of transparency.
I'm happy that Persona.ly's ML capabilities have proved themselves yet again. In this case, our ML's ability to combine multiple factors has helped the client acquire highly engaged users and significantly surpass the KPI."

Muneaki Takao, Country Director – Japan at Persona.ly
About Persona.ly
Persona.ly is a mobile-first DSP operating worldwide. Using our proprietary bidder and machine-learning algorithms, we offer transparent, performance-driven, highly targeted UA and retargeting solutions at scale with access to over 2.8 million ad auctions per second. We are trusted by Nexon, Papaya Gaming, Rapido, Games24x7, Ubisoft, Tilting Point, and many others.
Persona.ly strives to be more than just a vendor for its partners, but a partner that helps generate actual value, growth, and broad marketing insights that can be used across channels.